Join the Snickers Hunger Buster Challenge
Hey guys! Have you heard about the news that the city of SNICKERS are now like zombies because they don't have enough energy?
Are you up to the challenge and help the city of SNICKERS and give them their energy back? If your answer is "YES!" then go to http://www.snickersgame.com/ and PLAY.
Yes, our favorite Snicker Chocolate energy bar (that give us the energy for our everyday need), Have this new and really cool game. The Snickers Hunger Buster Challenge.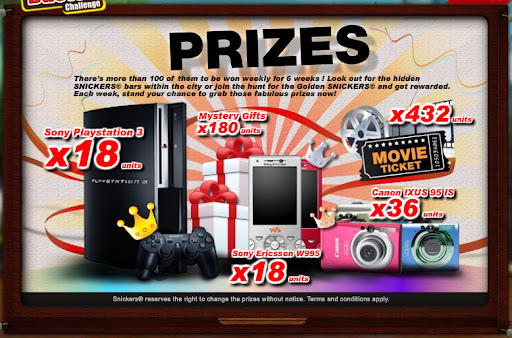 There are cool prizes up for grabs. Prizes like Sony Play Station, Sony Ericsson mobile phones, Canon cameras, movie tickets and many more mystery gifts to be won!
You got two way of winning the cool prizes:
1. First play the Snickers Hunger Buster Challenge. Beat the clock and hunt for the 10 hidden SNICKERS bars and energize the people of the city. Be the fastest in a week category to win the fabulous prizes for that week.
If your one of the top 15 fastest contestant for the week in your country Then you win the weekly fabulous prizes! Each winner can only win ONE weekly prize.
2. Join the Hunt for the Golden SNICKERS bars across the worldwide web and stand a chance to win yourself a prize! All you have to do is follow the www.snickersgame.com, Twitter & Facebook account to get clues that will lead you through the hunt. Every clue you get will lead you closer to the Golden SNICKER.
The fastest 23 winner of the hunt of the Golden SNICKER from each countries will be selected every week.
The best part of these great SNICKER hunt contest is that it is open to Malaysian, Singaporean and Filipino from 8 July – 21 August.
We have 6 weeks to beat the time and be one of the fastest. Go ahead and log in and join in the fun.